Stupid Somethings
Brazil + Soccer = ...
Our attentions turn back to a soccer country again today, and you know that means - something stupid happened. In this case, a Brazilian soccer player was charged with racism for chanting "monkey" on the sidelines of his game. TV images showed former AC Roma player Antonio Carlos shouting the term from the sidelines during a game on March 5th, after his hard foul on Gremio midfielder Jeovanio.
It's sad the degree to which racism exists in some people. If ever there was a situation where racism should just never come up, this is it. First off, soccer's governing body FIFA just increased their own anti-racism regulations last month, so its obviously something that they will be strongly looking out for in the next little while. Secondly, last time I checked, half of Brazil's 200 million residents are either black or mixed-race (yes, there is a reason why the hottest girls always seem to be from Brazil. I'm not sure what it is about mixed race girls, but it always turns out right!), so if you're going to be a bigot it just may not be the wisest place to pull that crap. Last, but certainly not least, in Brazil Racism is actually a crime that comes with a 1 to 3 year jail term. I struggle to think of any other way that you could have more thrown in your face trying to convince you to keep your idiot ideas to yourself. Nonetheless, stupidity always prevails. Or is it something else?
While a 1 to 3 year jail term for racism sounds like a harsh punishment, there is a catch. He is a soccer player, and soccer players in a soccer country are like the captain of a football team somewhere in Texas. Rules just don't apply. For instance, Brazil has yet to implement FIFA's racism rules, and on top of that if Carlos is a good enough player, he probably won't even hear a single boo at his next home came. Soccer comes first, even before human degradation. Keep in mind, this is a world where people are killed with some consistency over the results of matches, and even during the course of a game. If that wasn't enough, however, here is what local prosecutors had to say about his pending sentencing:
the player can avoid a trial if he agrees to have 10,000 handbills made with the saying, "We are all equal," and "Say no to racism." He would have to help distribute the handbills during sporting events in the city of Caxias do Sul, where Juventude hosts its matches
That sure sounds about equal to 3 years in jail. Maybe someday soccer fans will evolve to join the rest of the world, but I wouldn't count on it happening in our lifetime. We're talking about people who actually look forward to sitting down and watching a few hours of soccer non-stop. That's a lot of
evolution
they need to go through.
Elias Watch and Slowed Stupidity
The Devils beat Philadelphia today to move into a tie with them for 5th in the Eastern Conference. The win gives Elias and the boys ample space so that they can't be caught from behind, BUT it puts them into dangerous territory. As always seems to be the case, finishing 6th place in the conference is much like winning the lottery. Riding on Elias' back, his 12 points in their last 7 games have helped the Devils to 9 straight wins, and do the unthinkable by moving to within 3 points of the Rangers for first place in the Atlantic. If they catch the Rangers, they will move into 3rd in the Conference and likely face the Flyers in the first round. Should they stay ahead of Philly in 5th place, they would open against the Sabres. Staying in 6th, however, would mean they draw the Rangers in the first round, the weakest of the three teams, and struggling of late. They even managed to lose to the lowly Penguins and Islanders this week, not to mention the Devils themselves. Although they won't admit it (Lemaire isn't as dumb as, say, a Swedish hockey coach), I can't imagine any reason other than
stupidity
would make the Devil's come out and play hard against the Flyers on Sunday. Maybe Elias will just happen to need a day of rest, that would do it.
Canucks No More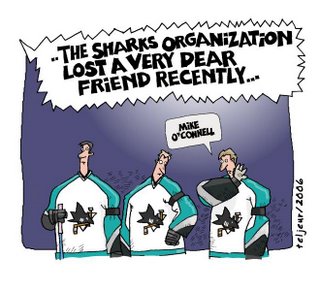 As was obvious to me, and apparently
no one else
, the Canucks season finaly came to it's inevitable conclusion tonight as they lost for the second time in as many games to the Boston Bruins former GM. As a result, the 16 teams I called a couple of months back the easy to see playoff teams are, in fact, the 16 playoff teams (assuming Atlanta and Toronto don't pull off some kind of miracle. Aubin and Mats sure are trying their best, but it's too late. If only they has started one game sooner, should be the chant of the Leafs faithful as their bandwagon eventually crashes again). San Jose, 8 points out of the playoffs even when I called them the eventually fifth seed, seem to be on the way to fulfilling that prophecy as well. They are the second best team in the West, and I'm confident the playoffs will give even more evidence of that. Detroit, Dallas, San Jose and Anaheim should be the first round winners if they don't have the misfortune of lining up with each other. And much like you and me, the Leafs and Canucks will have a great view of the Sharks run to the finals when it starts in just over a week now. Mind you, the Red Wings will have a lot to say about that statement, and probably no one else. If Thornton isn't the MVP this year, then something went horribly wrong.